Editorial Note: Streaming worship services had developed into a fad with today's ready access to technology. With the Covid-19 Outbreak, now it's a necessity.  This is a great article my buddy, Larry, that I think could be really helpful for churches trying to get services online.
Streaming Worship Services For Small Congregations
by: Larry Pittman
Using the tools available to us to help spread the gospel to those who do not or cannot attend worship services is commendable. But, for many smaller congregations, church leaders may be left with no or little idea about how to even begin to implement a streaming ministry.
 I am happy to share with you some insight into how to make streaming video in your church a reality. I will take you step by step through the process, while discussing the infrastructure and equipment that you will need.
Do You Have the Workers?
When introducing any technology into a church body, my first question is always, "do you have the volunteers with the heart and initiative to take on the project?" One may acquire the best equipment, but without the one or two members that will step up and take charge and be willing to learn and improve their skills, video will not take off.
What is Your Motivation?
My next question is, "Why are you wanting to stream your services?" There will be some cash outlay to get up and streaming, so having a goal in mind other than "everybody is doing it" is important to ensure that your governing board will support the program. Depending on your goal, there might be a different solution such as posting sermons online, for example.
Internet Requirements
Now that those two questions are out of the way and you are committed to entering the streaming world, the next topic to address is, does your internet provider offer a solid, fast internet connection?  Most internet providers advertise an internet speed, but that is usually expressed as the download speed. To successfully stream, we have to be concerned with upload speed, as well.  There is a formulaic approach to figuring out how much bandwidth will be needed. It is based on the bit rate of your video camera plus the bit rate of your audio interface output.
For a reliable stream, 7.5 Mbs/s upload bandwidth for most consumer or prosumer systems would probably be sufficient with a comfortable margin. If your internet is open to the audience and a lot of congregants tend to sign on with their tablets to access an eBible app, you may find that you need a dedicated internet signal for smooth, uninterrupted streaming.
Video Source
A video source is the next piece of hardware to think about. One does not need to pay a lot of money to have a camera that will work just fine for entry-level streaming. The main considerations for a streaming camera are that it have a 20X optical zoom, HDMI, SDI or USB output and that it shoots in 1080P.  I like the Canon Vixia HF G21, the Sony HXR-NX100 and the Panasonic AG-DVX200 for most basic church applications.  Optical zoom is much preferred to digital zoom, which will leave the picture pixilated and dirty when zoomed in.  PTX Optics also has a great hard mount camera that can be combined with more than one camera with one-person remote control by a joystick. One needs to consider how much they want to grow their video program in order to decide how much to invest and what type of camera to buy. Each camera has its pros and cons.
When choosing the camera, don't forget the sturdy platform to mount the camera on. Investing in a good video head and tripod will add professionalism to the appearance of your shot. For the money, Benro makes several really good heads and legs. While I prefer a tripod with a 100mm bowl, a 75mm bowl will work just fine for most static, light camera operations. And, although a true fluid tripod head is best for smooth panning and tilting, having one that operates smoothly and that has adjustable drag is minimally a must.
Audio Source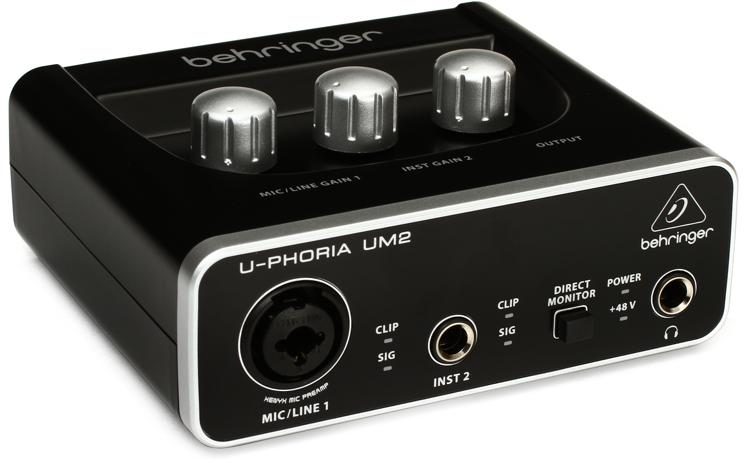 Audio capture is an area in video that is too often overlooked or is not given the attention that it deserves. A clean, clear, effectively mixed audio feed is an absolute necessity if you want to hold your audience's attention. A USB audio interface is used to receive the audio mix that will be bussed from the house soundboard to the computer that will serve as the streaming hub.
There are many choices of USB audio interface devices ranging in price from around $50, upward. The Beringer UM2, PreSonus AudioBox 96 or Focusrite Scarlett 2i2 are three low-cost options that are my favorite ones for a simple single or dual-channel audio interface.
Hub Platform
The video and audio feeds flow into a streaming hub platform.  Although there are dedicated encoders on the market, for the smaller streaming projects, I recommend a computer. Computer platforms are more versatile and simple to operate than most encoders. Although I am a Mac person, most people recommend a PC for this job.  The primary requirements for the computer is that it must have a robust processor and a hardy video card with HDMI or SDI inputs, depending on what your camera has for an output. If you plan to stream from more than one camera, each camera will need its own input terminal on the video card. And, each additional camera does increase the workload of the video card and processor. So, the more you want to plan for expansion, the more powerful you want your computer to be.  You will want a dedicated computer for streaming since the streaming operation will conflict with the projection of worship song words and slides.
The computer will need encoding software installed.  There are some open, free programs, but they tend to be limited in ability, have complex learning curves and aren't well supported.
vMIX for PC seems to be the best for the money that I have found. vMIX has a free version, but do yourself a favor and pay $60 for the upgrade. It is rich in features, easy to use and interfaces quickly with YouTube and FaceBook.
If you are a MAC user, I recommend Ecamm Live. At about $80 for a license, Ecamm Live is an easy to use streaming solution.
Facebook and YouTube Platforms
The last link in the streaming chain is to determine where you want to stream your video. Streaming to Facebook or to YouTube are popular options. There are other solutions which require a subscription. Audience participants would be required to sign into a virtual room, or, if you have a website and access to your webmaster, those services can stream to your website with the appropriate embedding of some code. Facebook and YouTube are the most simple and inexpensive outlets for your stream. Of course, a Facebook or YouTube account is necessary but they have free options that work just fine.
Some Last Considerations
With all the hardware and software decisions out of the way, a few closing tips from the benefit of my experience are, to improve the overall quality of the video, framing and frame composition are important. For example, if your preacher is a wanderer as he preaches, it is important to stay ahead of his moves to avoid having him wander out of frame.
And, finally, I ran into a situation at one congregation many years ago where an attendee had reasons that they did not want to be seen on camera. There can be many reasons that a member may not want to be picked up on camera, such as a foster child situation or a hostile relationship situation. So, knowing your audience and taking steps to keep audience faces out of the shot are important privacy considerations.
Congratulations on your decision to take your worship services online. I wish you and your outreach ministry all the best.